Perfect rental service apartments in Noida for both Short/Long Stay
COMPLETE FURNISHED APARTMENTS
POCKET-FRIENDLY PRICING
Our rate list is absolutely accurate, and we believe in complete transparency with our guests. We have also mentioned about our rentals in addition to their inclusion and exclusions. To make our customers happy we have some exclusive discounts for those, who want to extend their stay. We give the best room facilities, and our customers can also book rooms on an immediate basis.
EXPERT STAFF
We pay more attention towards the hospitality of our customers as they should not face any inconvenience during their stay in Olive serviced apartments. Our team is 24*7 available to deal with our guests and can resolve query regarding their pre and post bookings stay in Noida. Kindly contact us on +919015080080, and we ensure to give our customers great weekend packages, and amazing extended stay offers on rental apartment holidays in Noida.
Kindly contact us on +91 9999011603, and we ensure to give our customers great weekend packages, and amazing extended stay offers on rental apartment holidays in Noida.
Serviced Apartments in Noida – Available @ Olive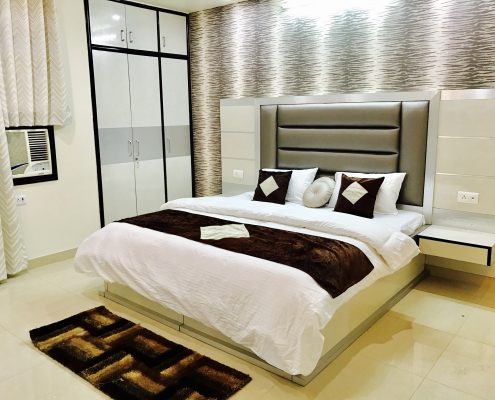 Grand Deluxe Rooms
Olive Deluxe room of 230 sq.ft has the facilities of attached bathroom and shared balcony/kitchen usage in holiday homes in Noida. The most amazing part of the Deluxe room is its King size bed and other facilities including flat screen TV with Tata Sky HD plus bed and breakfast. Our designed rooms are recommended for single executives as well as for couples who have house rent in Noida with ample space for accommodating guests and facility to cook food in the kitchen of rental homes in Noida.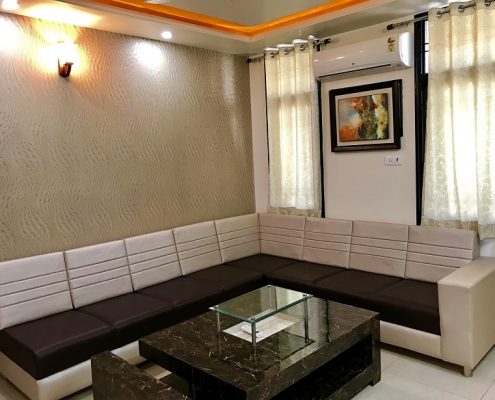 Elegant Studio Apartments
In our holiday lettings, we have studio apartments rooms available for houses to rent for the weekend which is well structured and appropriately designed within an area of 400 sq.ft. This place is perfect for rental vacation homes. It is quite appropriate for couples and singles as it provides great comfort with ultimate kitchen facilities like hot plate, microwave, refrigerator, toaster and basic crockery to create ease in cooking.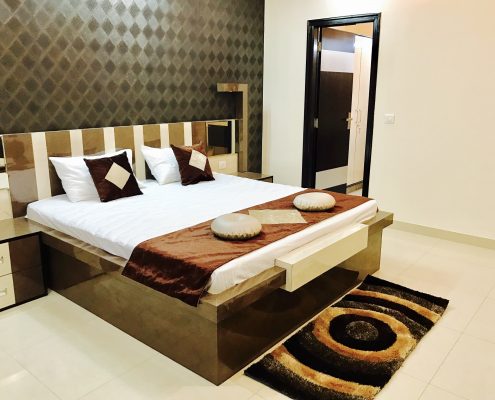 Silver Class One Bedroom Apartments
Olive serviced one bedroom apartments are spread across 500 sq.ft which cater the needs of couple and kids. In our holiday apartments, one bedroom apartments have the luxury of queen/king bed, attached bathroom, separate living room along with sofa seating and dining table.
---
About Us
The sole purpose of Olive service apartments in Noida is to make the guests stay comfortable and happy in our beautifully designed rooms. Olive offer house rents apartments in Noida and has a variety of non-sharing, self-catered serviced apartments. All our properties have a separate kitchen with all necessities and a living room which gives you complete privacy and sufficient space to move around. Our rent house in Noida are designed in a way that our guest doesn't have to share common spaces of rooms and other areas with other guests.
Available in all sizes

We have fantastic Deluxe rooms with BnB plan as we also offer non-sharing one bedroom, two bedrooms and three bedrooms serviced apartments available at affordable rents in our house rent in Noida.

Individual Kitchens Plus Living Room

Olive serviced apartments provide separate kitchen with all the equipment required for its guests in all the rooms (1,2, or 3 bedroom units)

Linen Changes & Cleaning Inclusive

Facilities like Complimentary housekeeping services, towels, clean bed sheet , free WiFi connection, Tata Sky HD TV and Gas stoves are included altogether in one Rentals with other maintenance facilites.

Professionally Trained Hospitality Team

We have a dedicated team with us which provides 24*7 assistance to our esteemed guests to ensure that all our guest's requirements are fulfilled in our weekend apartments.
Words from the Mouth of People
Last month because of some medical issues, I came to Noida with my family and booked Olive serviced apartments . I was relaxed and free from tension during my stay as my family got all the facilities including separate kitchen with all equipment to cook food of our choice easily. I am thankful to Olive apartments for such wonderful behaviour and excellent hospitality.

"It was an overwhelming experience for me when I got the chance to stay in Olive Serviced apartments. Due to some renovation work at my place, I decided to stay for few days in the best rental apartment in Noida and thus chose Olive serviced apartments to stay with my family. I got the luxury and homely environment during my stay."

We had spent the most beautiful time in Noida all because of the Olive serviced apartment. The staff is supportive and is always available to provide their services. The location of these apartments is close to shopping complexes, hospitals and others. I believe that Olive service apartment is the best rent home in Noida.

It would not be wrong to say that Olive apartments are far better from hotels and kind of houses to rent for the weekend. It gives you the facility to cook food as per your choice with as it provides a separate kitchen with all necessary equipment. It was my first experience, and I had completely enjoyed my stay

The biggest USP of Olive apartments is that it gives proper attention towards cleanliness and pay back option for customers. I believe that customer satisfaction is more important than anything else for hospitality service provider. I rate Olive serviced apartments on top for everything, as they take care whether guests are comfortable or not.

Olive serviced apartments are the best holiday home lettings which gives all the facilities to accommodate visitors in a comfortable zone. Since it is located in the centre of the city, it is relatively easier to approach Olive apartments for people visiting Noida. As per the review, "My experience was just amazing when few weeks before I went to stay in Olive apartments."
Exceptionally Rated On Trip Advisor
We are top rated by TripAdvisor and other travel booking websites. And we also get appreciation & feedback messages of our clients on Facebook and Twitter. It gives us a great drive and motivation to perform even better and improve the quality of our services.
100% Pay Back Guarantee
We believe in customer satisfaction, and if the client is not happy with our services, then we also give the payment back to our customers on the spot.
Lowest Price Guarantee
Our apartments are also available for those guests who are unable to spend big amount to enjoy a comfortable stay. We provide the best room facilities for those who have a minimum budget.
No Hidden Charges
All our rental apartments are inclusive of tax and there are no extra charges.
ABOUT THE CITY NOIDA
We know that Noida is a short form for the New Okhla Industrial Development Authority. If we observe the design and structure of the city, could say that Noida is one of the planned cities in India which has unique and modern infrastructures with best amenities. It has been seen that Noida has the highest per capita income in the entire NCR region. The city is also famous for its greenery and excellent road connectivity. As per the official data, Noida Authority is considered as one of the affluent civic bodies in the country.
Noida is the part of State Legislative Seat (Vidhan Sabha) whereas its Lok Sabha (Parliamentary) seat falls under Gautam Buddha Nagar. Noida also shares its border with Delhi, and it is reported that more than 50 percent of the population travel to the national capital for official works.
Famous places to visit
DLF Mall Of India
The Great India Place
Worlds of Wonder
ISKCON Noida
Logix City Centre Mall
Rashtriya Dalit Prerna Sthal and Green Garden
Gardens Galleria
History of Noida
Noida has its administrative headquarters in Greater Noida whereas the District Magistrate (DM) lives in Noida. The city was formed on 19th April 1976, and Noida celebrates its foundation day on April 19 every year. Uttar Pradesh government is mainly responsible for the supervision of Noida. At the time of emergency (1975–1977), it was Sanjay Gandhi who has come forward to structure the city under Uttar Pradesh Industrial Area Development Act.
To add more information the city was created under the UP Industrial Area Development Act by the initiatives of Sanjay Gandhi. Noida has the largest per capita income in the whole NCR.
Discussing the infrastructural facilities in this area have well-preceded development. Located at the doorstep of Delhi is only 14 Km away from Connaught Place. The 550 meter long, eight lane NOIDA toll Bridge across the Yamuna connects to Maharani Bagh in Delhi to NOIDA has further shortened the distance, time and cost for commuting to and fro Delhi-NOIDA.
OLIVE SERVICE APARTMENTS IN NOIDA
In the hospitality sector, Olive serviced apartments are the ones who have shown their worth and offered the best quality services. If we talk about our presence, then we could say that we locate at four big cities Include, Delhi, Gurgaon, Noida and Hyderabad. Olive apartments are more popular among guests who look for a Deluxe room, studio apartments, 2 bhk apartment for rent and much more.
Service apartments in Noida
are the biggest one which is growing in a chain of self-catered serviced apartments in the country.
All our apartments are non-sharing and independent house rental apartments which include separate kitchens. Our apartment provides all kind of facilities to our guests which are wide in range like Washing Machine, cooking, WiFi Internet and Tata Sky TV. In addition to this, it also provides housekeeping, Linen changes, utility bills management and many other maintenance services. At the time of the stay of our guests, their privacy is ensured and utmost priority is given to their comfort. Apartments are fully air-conditioned with noiseless Daikin split air conditioners. However, there is 24*7 hot and cold water supply in bathroom, which makes our guest comfortable in summers as well as in winters.
In order to keep you connected with outer world, Olive serviced apartments are well connected with free WiFi and internet. Internet facility is appropriate for everybody as our guests don't need to pay extra. Particular attention has been given to the cleanliness of the Olive apartment as change of bed sheets, supply of clean towels on the regular basis are kept on the priority. To ensure proper electricity supply, there is an excellent power backup generation system set up by the Olive apartment. There is also the best parking space available for guests as they don't need to bother about parking lot anymore.
Noida olive serviced apartments has a broad range of rooms collection which are properly designed and maintained. Rooms are all set ready for every guest who wishes to live for both short and long stay. The budget of these apartments are pocket-friendly, and everyone could enjoy their stay and cherish their memorable days.
If we talk about the separate kitchen facility, then Olive has a lot more to offer as the kitchen is equipped with all the necessary equipment like pan, cutleries, crockery Stovetop, Refrigerator, Microwave, etc. In addition to this, the rooms have attached bathrooms and living rooms with couch seating and dining. Our guests always remember us for our quality services, and our customer relationship management, where staff members are focussed on providing timely services to our guests before checking in and during the stay.
1What are the various accommodation options available for guests?
Olive service apartments offer a variety of rooms having different sizes which include Studio Apartments in Noida with Kitchenettes and One Bedroom Apartments with Living Rooms & Kitchens. However, our guests can also choose to stay in two bedroom apartments that come with two bedrooms attached with bathrooms and living room with dining and kitchen facilities. However, Studio apartments are one of the best apartments for rent in Noida which are suitable and convenient for families and couples.
2What are the rentals and stay requirements?
We provide Olive serviced apartments for the convenience of our guests, the prices of Olive apartments are not huge as one can easily stay by paying the rent on a day, week or monthly basis. We provide discounts on rentals for Weekly & Monthly basis to our guests, who want to stay for long.
3Who are the regular guests of our apartments?
The people who frequently visit Noida and look for staying at a place where they could relax and enjoy the comfort. Our serviced apartments are ideal for couples, corporate people & families.